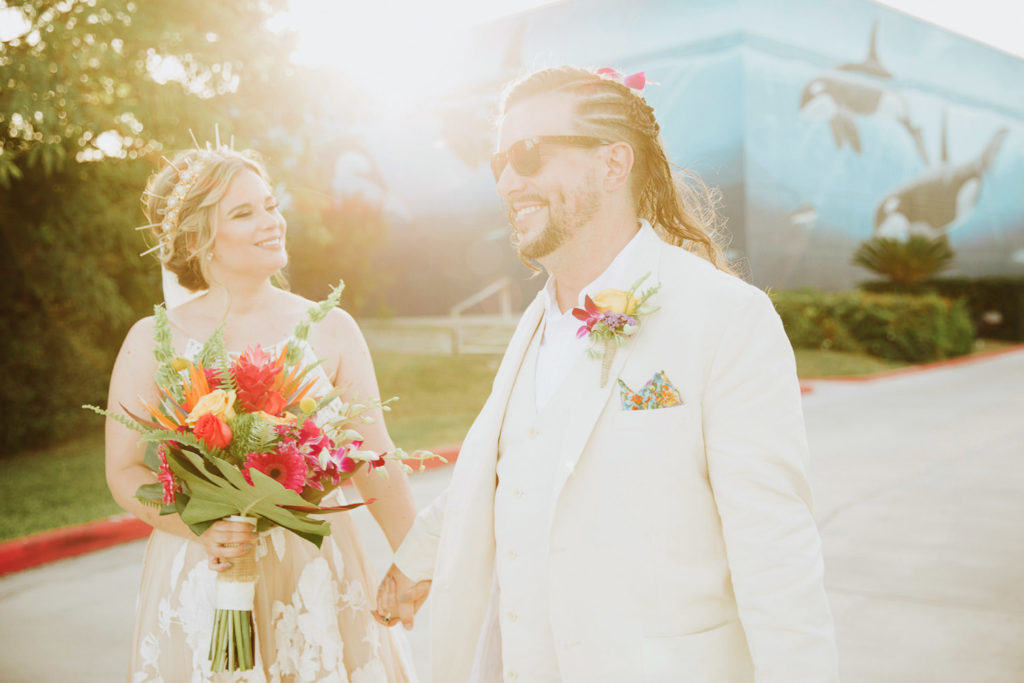 South Padre Island Weddings.
We always talk about what amazing clients we have, but, we don't emphasize enough how incredibly creative and talented they are. 
We are happy you are here; you are in for a treat.
The Luchador Theme
When we first met, they described the luchador theme. Of course, we knew it was creative and unique, but you should've seen our faces when we showed up. They seamlessly fit the theme into the wedding decor and Casa Mariposa's Venue.
Wrestling is one of the ways they bonded. Tim, as a lifelong fan, got her into it and now they are hooked for life! He was stoked to wear his replica WWE belt to enter the reception. They looked like true champions. :)
The Venue
South Padre Island Weddings are so much fun, and Casa Mariposa is hands down one of our most loved venues. Sherry and Chelsea are incredible hosts and planners. Also, they shined with the fun and gorgeous flowers for this wedding. It is not easy bringing to life couples ideas, especially for a beach wedding, but they are masters at their craft.
The Crown
Our stunning bride wore a stunning Crown by Amaroq. Make sure to start following this designer on Instagram today. We keep scrolling and scrolling, and we are in awe!
The Invitations
Another great discovery we made through Jessica & Tim, is Jen Pepper from The Chatty Press. She is a MUST Instagram follow. A few months before the wedding day, we received a gorgeous package with Save the Date and Invitation sets. We were in awe! As a result, we were able to play with them and shoot some fun flat lays in advance. Loved her creative designs! Sometimes with the rush of the wedding day, couples forget to bring invitation sets or things run late. It's a great idea to have these sets prior to the wedding. Thank you, Jen, you are fantastic!
The Timing!
Ok, this is a BIG one! We always discuss with brides the importance of wedding day timing, and their schedule ran perfectly. This allowed us to incorporate such great light for great imagery. Timing is crucial to be able to provide you with the best coverage.
Thank you guys for taking this into account and making it a priority for your big day.
In conclusion
Jessica and Tim, you are truly amazing. We are very honored you chose us to document such an important day in your life. After meeting you and now witnessing your wedding and all the fun you planned for your family and friends, we know you are in for an incredible life journey. We hope to see you guys along the way!
To all engaged couples out there, thank you for being here and reading through the highlights from this wedding! Hope it inspired you a little bit and maybe learned a trick or two ;)
All the best,
anahi+edgar
South Padre Island Weddings
Venue-Casa Mariposa // Crown-AmaroQ // Invitations-The Chatty Press // Cake-Honey's Cakes  // Music/Cello- Jenuine Cello/Jen Mulhern  // DJ-Geoff Clifton  // MUA- The Crystal Rose SPI and Beauty by Andi // Wedding dress – 'Ami' from the Rue de Seine WildHeart collection // Wedding veil – Sara Gabriel Veils // Maid of honor's dress and ringbearer's escort dress – Jenny Yoo // Groom's suit and best man's suit – StudioSuits